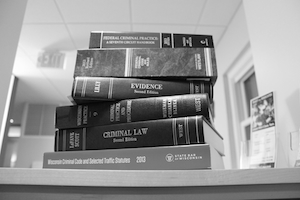 If you or a family member is charged with a crime, it can be extremely stressful. You need experienced, seasoned counsel to guide you through what can be a difficult and confusing process. At the same time, you need affordable representation that will not add a financial burden on top of what you're already going through. The lawyers at Sweet and Associates are among the best criminal law attorneys in Milwaukee County and the state of Wisconsin. We appear regularly in municipal, state and federal court to defend a broad range of cases, including –
Drug Offenses
Our criminal defense lawyers defend drug cases including drug possession, drug distribution, prescription drug offenses, drug trafficking and possession with intent to deliver
OWI/DUI & Traffic Offenses
Our criminal defense lawyers defend OWI/DUI, drunk driving, operating while intoxicated, operating with a prohibited alcohol concentration (PAC) charges, as well as traffic offenses, operating with a revoked or suspended license (OAR/OAS), operating without a license, hit and run and all manner of traffic cases.
Property Crimes
Our criminal defense lawyers defend burglary, theft, embezzlement, robbery, trespass, shoplifting, retail theft and white collar criminal charges.
Domestic Assault/Domestic Violence
Our criminal defense lawyers defend misdemeanor and felony domestic violence, battery, disorderly conduct, criminal trespass, criminal damage to property, domestic abuse injunction and other domestic abuse related charges.
Violent Crimes
Our criminal defense lawyers defend robbery, assault, sexual assault, homicide, felony murder and battery charges.
University or College Student Criminal/Citation Offenses
Our criminal defense lawyers defend cases common among university or college students, including underage drinking tickets/citations, disorderly conduct charges or citations and drug possession offenses.
Affordable Criminal Defense
We understand that facing a criminal charge is very stressful. It should not require that you empty your bank account to find the legal help you need. We work with clients to find affordable solutions, including reasonable fees and payment plans. The initial consultation is free, so call now.
The Criminal Law attorneys at Sweet and Associates have proven results.
We provide effective, experienced criminal defense in the following counties: Milwaukee, Ozaukee, Waukesha, Washington, Racine, Kenosha and beyond. Call us today for a free initial consultation –
414-332-2255, or toll free at 1-866-784-2344.